December 11th, 2019
Welcome to The BURG Peer Education Network Website! To learn more about what we do, visit the About Us pages listed in the menu bar!
Don's Daily Dose
What's New?
FYI 2019
Date: June 10th, 2019
Greetings,
We would like to announce that we are taking applications for our FYI 2019. FYI is the First Year Initative, where students come to campus a week early and gain much needed skills such as leadership, communcaiton, team work, and how to become an emerging leader on campus. It's an experience like no other, and creates a bond that we like to call family. Other than that, you will also become familar with the Frostburg campus and locations in the nearby area.
Apply to the FYI Program here: http://www.burgpeereducationnetwork.com/downloadable_docs/download/84
- Don Swogger
Funny Clip
Date: March 12th, 2018
https://www.youtube.com/watch?v=yarZRgMWVmo
- Abreeya Darda
Bobby Petrocelli
Date: October 9th, 2017
Wednesday October 11th @ 7pm
Lane University Center Atkinson Room
- Robert Lemaire
Games of Wellness Week
Date: September 19th, 2017
- Robert Lemaire
Welcome FYI Class of 2017
Date: August 29th, 2017
- Robert Lemaire
BURG Week 2016
Date: January 30th, 2017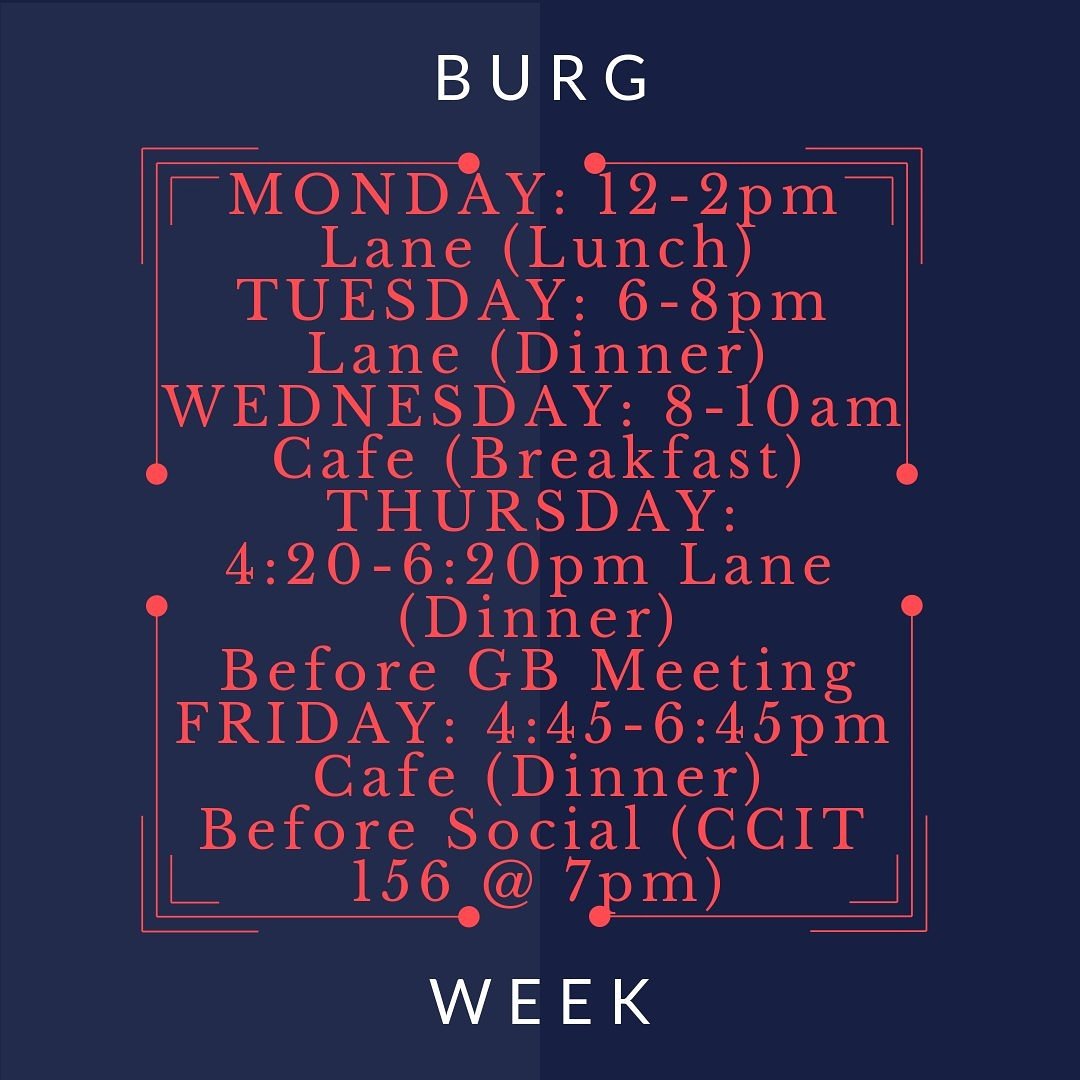 FSU Students, welcome back to the first week of school!
We invite all of our BURG members & students on the campus out to eat breakfast/lunch/dinner with us. BURG Week will be jam packed with these events to help us to get to know everyone, all leading up to an incredible social. See you then!
- Kaelan Keller
Block Party 2016
Date: September 5th, 2016
Come over to Frostburg's Main Street on Wednesday, September 7th from 5:00 PM to 10:00 PM to enjoy the annual Block Party! Local businesses and FSU student organizations will be filling the street with tables and activities, and the BURG Peer Education Network will be there with FREE incentives and more! Come out to learn more about Frostburg and what it has to offer to you!
- Jonathan Grams
Throwback Thursday: FYI 2015
Date: December 10th, 2015
- Robert Lemaire
Order your BURG Bash 20 commemorative t-shirt today!
Date: September 15th, 2015
- Robert Lemaire
Lead Team Retreat '15
Date: July 19th, 2015
The BURG Leadership Team was at The Bishop Clagget Center this weekend planning for the upcoming semester. Unfortunately, some of our members could not be with us in attendance but they were with us in spirit as we accomplished a lot so we can have a successful FYI and we cannot wait to meet all of the new freshmen!!! :)
- Robert Lemaire
Spring Retreat 2015!
Date: April 29th, 2015
- Robert Lemaire
Bobby Petrocelli
Date: October 7th, 2014
Come Check him out
Oct. 23 @
7pm
in LUC
Armah
- Robert Lemaire
BURG Reunion 2014!!!
Date: April 28th, 2014
It's that time of the year again! In a few short weeks, BURG will be hosting it's second annual Reunion! Please check out the link below for all of the details!
Hope to see you there!
- Bobby Croft
Do You See What I See? 2013
Date: October 22nd, 2013
Check out this video from this year Do You See What I See? Program
- Robert Lemaire
Lead Team Training
Date: August 24th, 2013
- Robert Lemaire
The Best Regimen for College Fitness
Date: August 23rd, 2013
Hey Everyone, Check out this awesome resource for ways to stay fit in college!
Susan Martin is an extremely talented graphic artist!
http://www.thebestcolleges.org/the-best-regimen-for-college-fitness/
- Nathan Rosenberger
Apply Now!
Date: May 10th, 2013
- Robert Lemaire
Community Reach Out
Date: April 27th, 2013
We had an amazing time at the Metropolitan AME Church in Cumberland, MD this afternoon! These kids showed us just as much as we showed them! They are ALL about B'ing the 1 now!
- Veronica Morris
Color Splash 2013
Date: April 27th, 2013
The BURG Peer Education Network had an awesome time at the Color Splash down in the Lower Quad today! It was so nice to see all of those smiling faces! Bthe1!
- Veronica Morris
Congratulations to the new 2013-14 Lead Team!
Date: April 18th, 2013
Shayna Kramer- Past President
Desiree Despertt- President
Veronica Morris- Vice President
Samantha Metz- Secretary
Samantha Hammett- Treasurer
Patricia Malatt- Mentor
Diana Whiteman- Mentor
Arun Pant- Mentor
Tanisha Mitchell- Mentor
Makia Walker- Social/Community Chair
Robert Lemaire- Recruitment
Great Job All!
- Desiree Despertt